Dry and wet automatic pig feeder SHD001
Dry and wet automatic pig feeder used in pig farms in the production process of fattening pig stage. Made of stainless steel feed tray, plastic silo, thickened galvanized plate bracket, barrel, galvanized U-shaped water pipes and other components.
1, Feed silo material: Rotational molding
2, Trough support frame: Hot-dip galvanizing
3, Tray material:SS304
4, Tray Standard thickness 1.2MM
5, Tray Actual thickness:1.08MM;
6, Other configuration:Stainless steel regulator
7, Packing Size:1150*530*340mm/3 set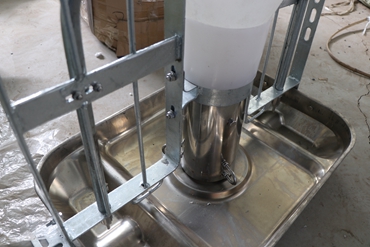 1, Convenient and long-durability

2, Smooth edge protect animal cutting professional design save water, no water waste
3, Pigs can get the feed easily, feeding pigs with forage and water at the same time
4, Up to 50 pigs per feeder
5. The feeder can eat feed from two sides,so the pigs don't piddle,grow the weight more faster.
6. Keep the water apart the feed,to prevent feed mildew.
Name
Dry and wet automatic pig feeder
Feed silo material
Raw material UR644
Feed silo technology
Rotational molding
Tray material

High grade 304

stainless steel

Feed silo capacity
146L
Tray technology
Compression molding
Loading weight
100KGS
Tray size
710*415*100MM
Feed silo size
710*970MM
Tray wall thickenss
1.2mm