pig farm equipment sows gestation crate sow stalls SH004
1 Wholly hot-dip galvanized
2 304 stainless steel sow trough

3 Rear Door is Self-locked
5 With automatic piggery feeder
The pig gestation stall can effectively save space, and more easily manage pregnant sows. Hot-dip galvanized steel pipe welding and powder coating again. it will sturdy and durable, corrosion-resistant, easy to clean. The stall has a lock system, which people can lock when pig eating. This can guarantee the pig eats enough. After the pig eating enough, people can open the lock system.
The pig gestation is Adopt CO₂ gas shielded welding with hot-dip galvanized first. Then do overall powder coating again which makes it has high anti-corrosion, rust prevention, and great durability.

The 304stainless can used for a long time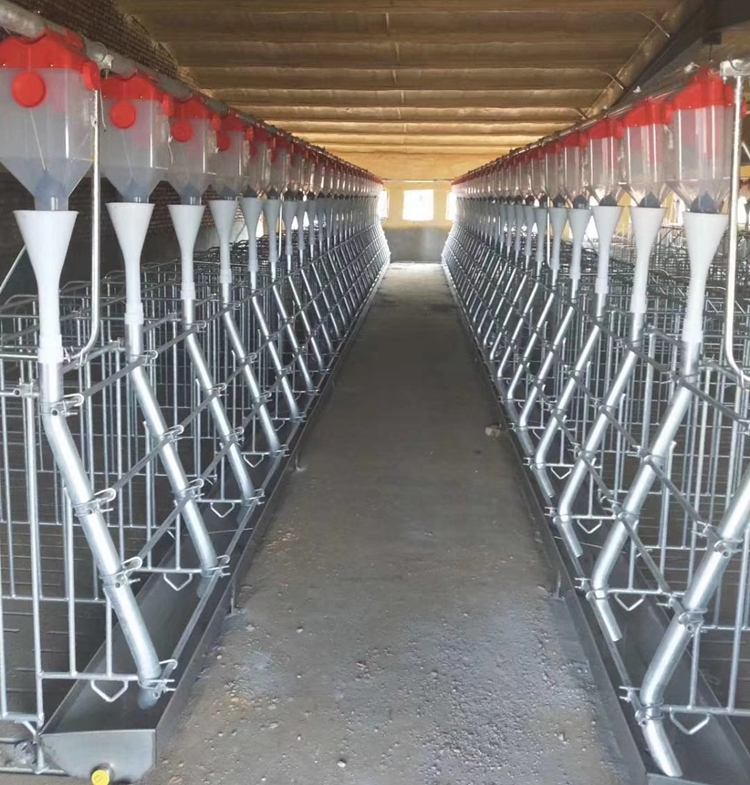 1 The surface was treated by hot-dip galvanization with a uniform coating which gives the crate long service life.
2 For each pig, it has its own space, which makes it very easy for insemination and physical examination.
3 The steel plate sow trough is cheap and smooth, not easy to hurt sow's mouth.
4 The BMC floor is easy to flush, friction resistance and corrosion resistance.

5 With automatic piggery feeder, saving labor, decreasing cost.
Stall

Size: 2100 mm*600 mm*1100 mm WT:2.0/2.5 mm

2200 mm*600 mm*1100 mm WT:2.0/2.5 mm

2400 mm*600 mm*1100 mm WT:2.0/2.5 mm




Material: Hot galvanizing steel pipe
Sow feeder
Size: 360*340mm
Material: Steel plate
Automatic piggery feeder
Size: 20.8*20.8*32.2cm
Material: Pure plastic
Other accessory
Stainless steel nipple drinker, Cast iron support legs, Install screw