How to plan pig farm automatic feeding line
Apr. 29, 2019
1, the female pig house
Female pigsties can be divided into: feeding with quantitative cup feeding line feeding or using sows electronic feeding station feeding.
Feeding with quantitative cup feeding has the following several design schemes:
A, with chain line and auger line
Because the feeding line is too long and too many corners, or several buildings with a feeding line of this kind of pigsty planning scheme, with the whole chain feeding line, there will be too many corners, resulting in slow speed for feeding, and the feeding line is easy to break. Therefore, use agure transfer the feeding into the storage tank top of the house, which will save four angle not on a plane, also will solve the problem of slow feeding and feed line easy to break.
B, with all chain line
This kind of feeding line suits the pigsty with less corner, the corner use won't be overmuch, general a shed uses a feeding line, won't appear feeding slow and easy break.
Electronic feeding station feeding:
Because feed station feeds general the feeding line is not too long, both ok use auger feeding line or chain feeding line. it is decide fond of pig farm controller.
Diagram of sows feeding by auger feeding line and electronic feeding station: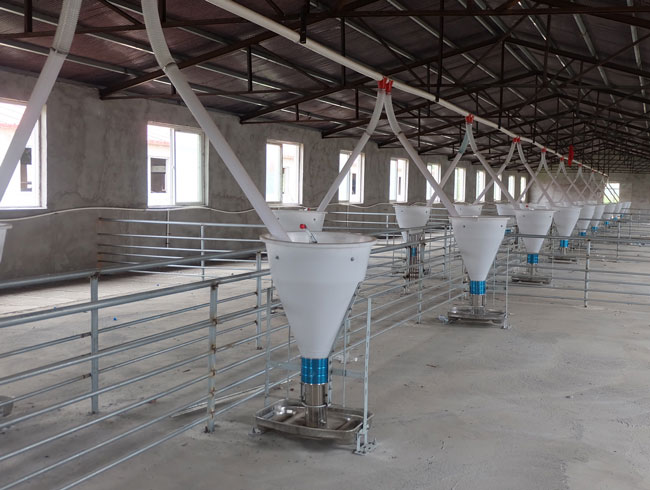 Diagram of feeding sows with chain line and electronic feeding station:

Fattening pig house and nursery pig house (same plan for them)
A with chain line and auger line
B with chain line
C with auger line